Online Acamprosate Prescription for Alcoholism
Campral (acamprosate) is an FDA-approved medication used to treat Alcohol Use Disorder (alcoholism). Campral helps reduce cravings and can help patients break from their alcohol addiction.
Our doctors are ready to see patients looking for a Campral prescription. We're excited to help you get on a road to recovery. Book an appointment below to get started.
Book an Appointment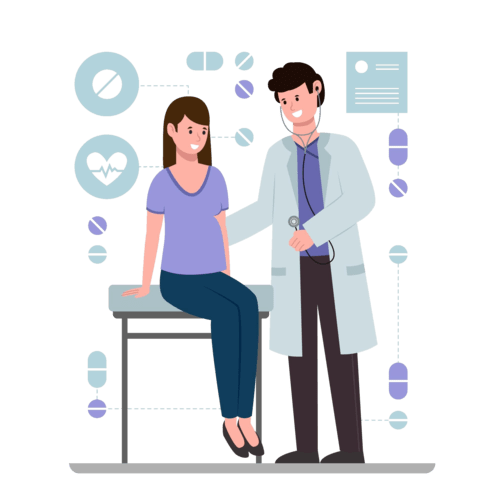 Acamprosate  (Campral) Treatment Online
For many people suffering from addiction, access to Campral is a barrier to care.
Luckily, our online providers are trained to prescribe Acamprosate. Our team of physicians and Nurse Practitioners can help you navigate the complicated path to obtaining an Acamprosate (Campral) prescription. Though we don't accept insurance for our consultation services, most insurance plans cover Acamprosate treatment including:
Aetna
Blue Cross Blue Shield (BCBS)
Cigna
United Healthcare (UHC)
Medicare
Tricare
Online Acamprosate Treatment
Learn how we help patients get affordable, accessable, Acamprosate treatment.
Personalized Treatment
Our doctors have received specialized training in prescribing Acamprosate (Campral) for alcoholism. Our doctors specialize treatment to your needs. 

Online Booking
We offer online booking so patients can book an appointment and know exactly when they'll be seen. You can book an appointment 24/7. 

$49 Visits
We understand how difficult paying for treatment can be; that's why we decided to make our new patient appointments $49/month. We strongly believe cost shouldn't be a barrier to care.
Peace of mind
Paying hundreds of dollars a month for recovery programs while in the midst of addiction is stressful. Luckily, our flat fee of $49/first month then $49/month thereafter provides everyone with the opportunity to recovery at an affordable rate.
Quick Appointments
Most online services make patients wait months before receiving a consultation. We're committed to seeing all of our patients typically within 72 hours. That's why we offer quick appointments for new patients. Book an appointment to see when we are available next.
Satisfied Clients
We care about our clients, and it's reflected in what people say about us. We hope we provide what you're looking for in an Online Acamprosate Doctor.
Get Acamprosate Online with Healthcare Intermediaries
Acamprosate is a medication that is prescribed to help people with alcohol addiction. It can help people who are in withdrawal to ease the symptoms and prevent relapse.
In the United States, acamprosate has been approved by the Food and Drug Administration (FDA) for use in treating alcoholism. In Europe, it has been approved for use in treating alcoholism and alcohol dependence. It is an oral medication that can be taken as a pill or in liquid form. Acamprosate helps reduce the cravings for alcohol, and it also increases the time between drinks, which can help prevent relapse.
The drug is used as a replacement therapy or an additional therapy to other treatments, such as psychotherapy or AA. It can be used as an outpatient treatment or combined with other therapies like psychotherapy to improve patient outcomes. Acamprosate has been shown to decrease alcohol consumption by up to 50%.
However, access to Acamprosate is a real challenge in the US. Luckily, this is where Healthcare Intermediaries comes in handy. We not only provide patients that are suffering from alcohol addiction with treatment, but we also deliver medication that will help them combat this issue effectively.
Leading provider of telemedicine treatment
At Healthcare Intermediaries, we provide the best online treatment for alcoholism. Our telemedicine-based programs are flexible, and your doctors are always available to answer any questions you may have.
The finest online alcohol addiction treatment
We provide the best online alcohol addiction treatment because our program is designed to be delivered in a timely and hassle-free manner — and that's just what you need when it comes to battling this addiction. With our prescription service and consultations with doctors, you'll always be sure of the quality of your care.
Save time, save money.
When you order your Acamprosate prescription online with Healthcare Intermediaries, you save time and money. We are a leader in the telemedicine treatment area and offer timely and hassle-free delivery of medication. Our team is available to answer any questions for all your needs. Plus, our online consultation will help you find the best treatment option for you.
Your privacy is our priority.
At Healthcare Intermediaries, we take your privacy seriously. You can be assured that your prescription and medical records will be safe with us.
Hassle-free and timely delivery
We take our patient's needs seriously. That is why we not only provide Acamprosate to our patients at affordable prices, but we guarantee timely delivery as well. With us, you are assured of convenient and hassle-free delivery of your medication.
Book a consultation today!
In the treatment of alcohol addiction, Healthcare Intermediaries is the best partner you can find. So, what are you waiting for? You can schedule an appointment right now by picking up the phone! We have qualified medical professionals who are ready to help you out.
Acamprosate Treatment Online in USA
Don't let alcoholism take hold of your life. Get affordable, confidential, and online Acamprosate Treatment today. Our doctors are excited to meet you.