Online Acamprosate Prescription for Alcoholism
Our online consultation process is quick, secure, and convenient. Simply follow these steps to get your Acamprosate prescription:
Complete our online consultation form: Provide your medical history, current medications, and any relevant information regarding your alcohol use.
Consult with a licensed healthcare provider: After reviewing your information, one of our licensed healthcare providers will reach out to discuss your case and answer any questions you may have.
Receive your prescription: If deemed appropriate, our healthcare provider will issue your Acamprosate prescription, which can be filled at your preferred pharmacy.
Pay just $49/month: Our affordable Acamprosate prescription plan covers the cost of the medication and ongoing medical support.
Book an Appointment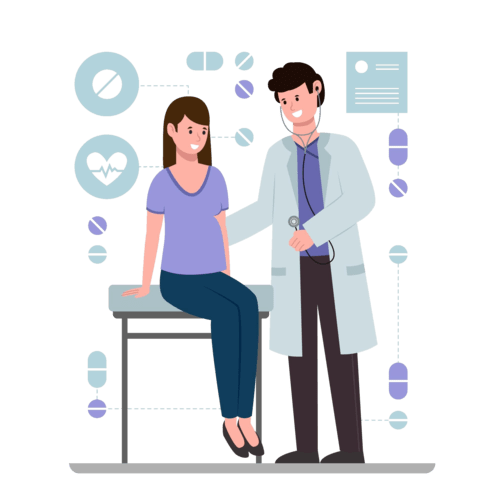 How to Get Your Acamprosate Prescription Online
Acamprosate, also known as Campral, is a prescription medication used to treat Alcohol Use Disorder. It works by restoring the balance of chemicals in the brain affected by chronic alcohol consumption. This helps to reduce cravings and withdrawal symptoms, making it easier to quit drinking and maintain long-term sobriety.
Get an Acamprosate Prescription for just $49/month!
Acamprosate Treatment Online in USA

Book an Online Appointment For An Acamprosate Prescription
Book an appointment 24/7 through our online booking platform. We have appointments 5 days a week, and respond to emails 7 days a week. Simply click the button to the left and you'll be taken to our booking platform.
Speak to An Acamprosate Prescriber
At your appointment, your doctor will ask you some questions about your drinking and (in most cases) will prescribe Acamprosate. Before your visit, you'll have to submit all your paperwork and sign the appropriate documents before you can be seen.
Pick Up Your Acamprosate At the Pharmacy
After your appointment, your doctor will send in your Acamprosate prescription to the pharmacy of your choice. You'll have to pay anywhere from $10 – $30 when picking it up. If you don't have insurance, please let us know and we can recommend pharmacies near you.
Our Alcoholism Treatment Testimonials
★★★★★
"Great program! Probably saved my marriage and my business.
Naltrexone should readily available to anyone who has issues with alcohol. Hopefully Daniel and his team will get the recognition they deserve."
★★★★★
"Daniel was able to get Naltrexone for me when 4 local doctors refused. The process was easy and Daniel was excellent to work with. The drug works to control my desire for alcohol. I am very thankful to Daniel and his team. I highly recommend this company."
★★★★★
"So glad I decided to try this service. The process was very smooth and I would recommend it for anyone who is in recovery and looking for a convenient way to see a doctor."
Why Chose Healthcare Intermediaries for Alcoholism Treatment?
With Healthcare Intermediaries, you get the best of both worlds: the same services available in a traditional clinic and the convenience of online treatment. We work hard to make sure you have access to doctors around the clock, so you never have to wait for treatment.
Alcoholism is a condition that affects everyone. Don't be afraid to book an appointment today and begin your recovery journey.

Timely & Hassle-Free Alcoholism Treatment
We offer services to help ensure the timely delivery of your online Acamprosate Prescription through our website or by email. We take any action we can to ensure you receive your Acamprosate treatment with as little difficulty as possible. 

healthcare intermediaries providers
Our team of doctors and nurse practitioners has a vast amount of experience in alcoholism and substance abuse, and aim to evaluate all patients within 24 hours. 
Affordable Online Acamprosate Doctors
We believe cost should never be a barrier to care — ever. Our Pricing is significantly cheaper than most other online Acamprosate providers. If you are unable to pay for treatment, please contact us and we may be able to offer you a sliding scale or refer you a center that does.
Initial Visit + Refills
Includes a 30-day prescription for Acamprosate and Individualized Treatment Advice

No health insurance required

Includes Provider Messaging and Check-ins

Price of medication not included. Most plans cover Acamprosate.
3-Month Subscription
Includes a 90-day prescription of Acamprosate and Individualized Treatment Advice.

Cancel your treatment at any time

Includes Provider Messaging and Monthly Check-ins

Price of medication not included. Most plans cover Acamprosate.