Introduction
Navigating the world of medication costs can be challenging, but we at Healthcare Intermediaries are here to help you find affordable Ozempic treatment. In this blog post, we will guide you through the process of completing the Ozempic Patient Assistance Program (PAP) online application, which can help you access free Ozempic if you meet specific eligibility requirements. We will also provide you with the necessary resources and support to ensure a smooth application process.
Eligibility Requirements for the Ozempic PAP
Before diving into the application process, it's essential to understand the eligibility requirements for the Ozempic PAP. To qualify, you must be uninsured and have an income below 400% of the federal poverty guidelines. You can find more details on these requirements in our in-depth blog post here.
Below is a chart showing the 400% FPL income limits for different household sizes. Please note, these figures are based on the 2021 FPL guidelines, but it's essential to check the most recent FPL updates to ensure you have accurate information.
| Household Size | 400% FPL Annual Income Limit |
| --- | --- |
| 1 | $51,520 |
| 2 | $69,680 |
| 3 | $87,840 |
| 4 | $106,000 |
| 5 | $124,160 |
| 6 | $142,320 |
| 7 | $160,480 |
| 8 | $178,640 |
Additionally, households with more than eight members should add $18,160 for each additional person.
Preparing for the Application Process
To complete the Ozempic PAP online application, you will need the following documents and information:
Proof of income (e.g., pay stubs, tax return, or a letter from your employer)
Your doctor's information (In this guide, we'll be using Dr. Mitchell Stotland from Michigan, email:

[email protected]

)
Your personal and contact information
Access the Online PAP Application
To begin the application process, visit the Ozempic PAP online application page at https://www.novocare.com/diabetes/help-with-costs/pap.html. Click "Ozempic," then "Go." After, scroll down to "Patient Assistance Program forms" and select it. From there, click "Online Application." Click on the "Apply Now" button to start your application.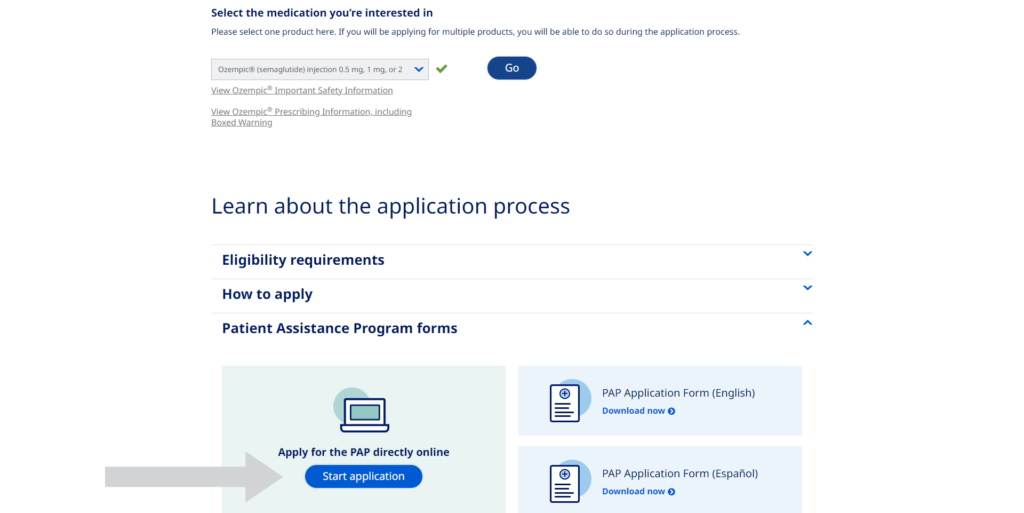 Answer Preliminary Questions
To begin the application process, answer the following questions on the application page:
Has your health care provider already started your electronic application? Select "No/I don't know."
Are you a patient or caregiver? Select "Patient."
Please choose one of the following: Select "New applicant."
Do you have any form of prescription drug coverage? Select "No prescription drug coverage."
Additionally, you must agree to the two statements provided below these questions.
Step 2: Personal Information
Enter the required personal information, including:
Your email address
Your phone number
Verify your email address by entering the verification code sent to your inbox. Agree to the statement at the bottom of the page.
Next, provide your:
First name
Last name
Date of birth
Address
Gender
The application will perform a soft credit check, and you may receive a message stating, "We're sorry, your income is higher than the level allowed." Do not worry, as this does not prevent you from completing the application.
Proceed by entering:
Your annual household income
The number of people in your household
The number of people under 18 in your household
Upload proof of income documents. Accepted documents include:
2 most current paycheck stubs or earning statements for all working members of your household
Last year's federal Individual Income Tax Return (1040)
Social Security income, pension, and other income statements
W-2 or 1099 forms
Unemployment benefit statements
You can upload more than one document if needed.
Step 3: Provider Information
In this step, enter the doctor's information:
First name: Mitchell
Last name: Stotland
State: Michigan
Click "Look up and verify" and select Dr. Stotland's profile. Next, enter the healthcare provider's email: [email protected]. Click "Continue Application."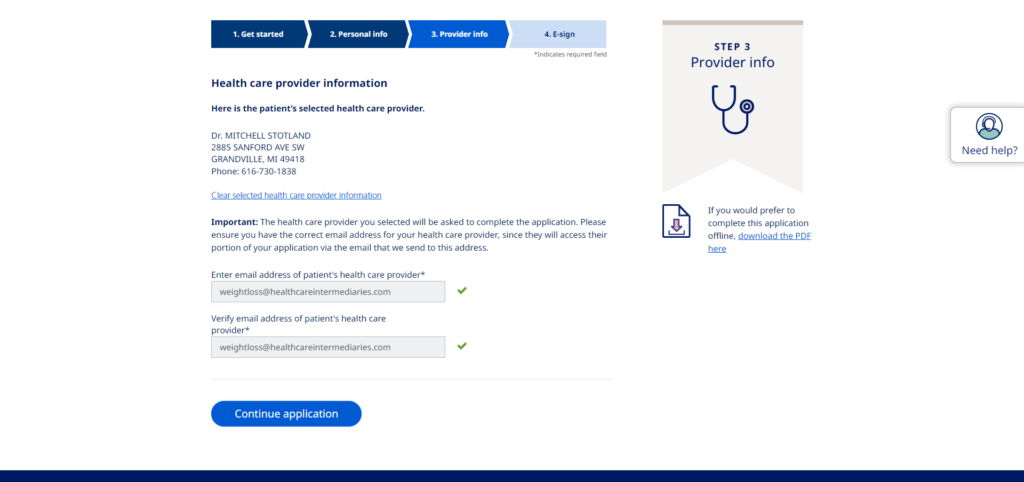 Step 4: E-Sign the Document
Accept the disclosure and click "Next: E-sign." You will be redirected to a new page. Click the blue button labeled "E-sign document." This action will take you to an Adobe document where you can e-sign and finish the application.
Once you have completed these steps, our doctor will review your application within five business days. Remember to also complete our online consultation form, as mentioned earlier in this guide, to ensure we have all the necessary information to support your application.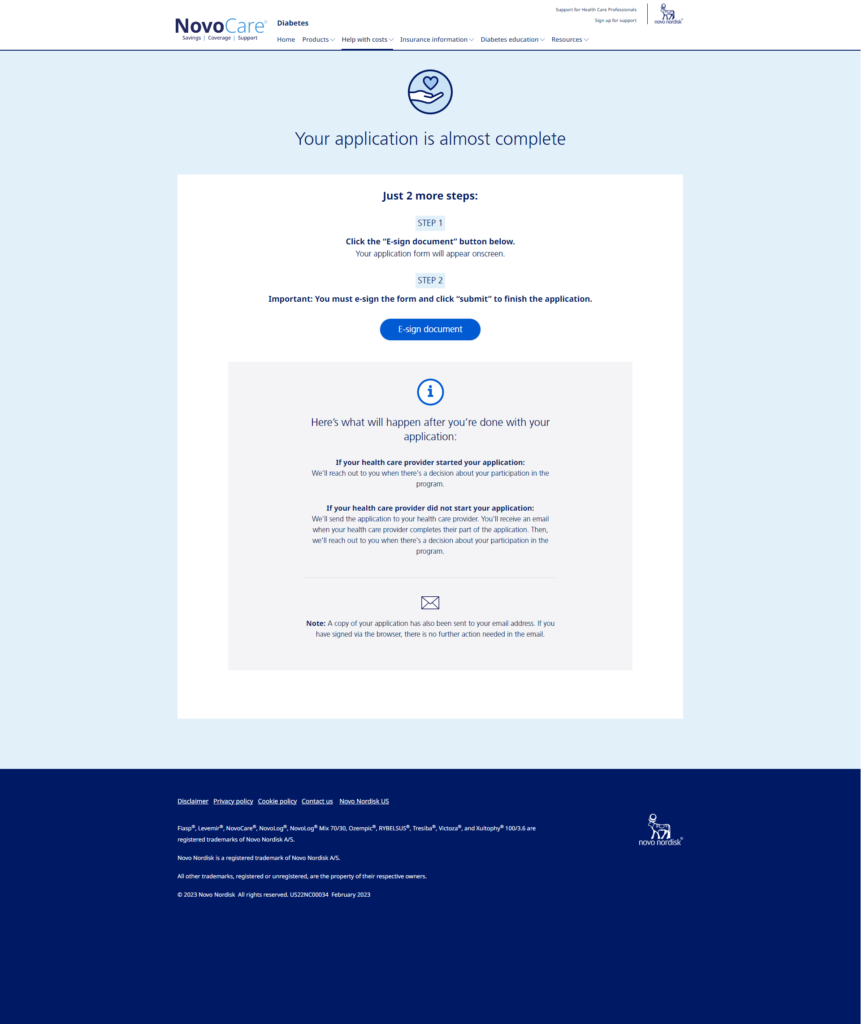 Step 5: Complete Our Online Consultation Form
After submitting your PAP application, the next step is to complete our online consultation form at https://hipaa.jotform.com/221975290127256. This step is essential, as it allows us to gather the necessary information to complete our portion of the application and provide you with the support you need.
How We Help Patients Find Free Ozempic Treatment
At Healthcare Intermediaries, our mission is to help patients access affordable Ozempic treatment. We understand that medication costs can be a significant burden, and we are committed to providing you with the resources and assistance you need to navigate the PAP application process. Our team of experts will work closely with you to ensure that you have the best chance of qualifying for the program.
Please note that while the Ozempic PAP may provide the medication for free, our services do require a monthly consultation fee of $99. This fee covers our assistance in managing your Ozempic treatment, providing support, and ensuring you have access to the resources you need.
Conclusion
Applying for the Ozempic PAP can be a straightforward process when you have the right guidance and support. By following the steps outlined in this guide, you can increase your chances of successfully qualifying for free Ozempic through the Patient Assistance Program. Don't forget to complete our online consultation form and reach out to our team at Healthcare Intermediaries for any additional assistance. We are here to help you access affordable Ozempic treatment and improve your health.